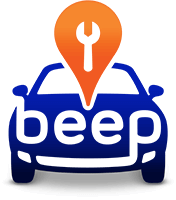 Easily locate reliable windshield repair services near you! Glass cracks and chips need to be repaired ASAP! Use Beep's marketplace to find your fix.
Chip or small crack in your windshield?
While rocks and debris are flying on the road, your vehicle is bearing the brunt of it – especially your windshield! While most of the time a pebble is no problem, sometimes it can do damage. And as we all know, certain times of the year are especially bad for windshield chips and cracks. If your windshield has minor damage, it's the perfect time to save yourself the cost of a new windshield. If you wait too long, cracks can grow beyond repair and you'll need to replace your windshield.
By booking windshield repair through Beep, we can find a provider who services glass with the right windshield repair for your vehicle, at the best price near you. Booking an appointment online or through the app is painless.
How do we make booking auto repair painless? We start by ensuring the booking is 100% accurate with our VIN scanning technology included in the Beep App. This sends flawless data to any provider that you choose. We have a huge and growing selection of automotive service providers who are competing on our marketplace to serve you better by offering the best price, most convenient service, or best hours and selection.
A little crack or chip can seem harmless. We've all been there! As time goes on, that crack in the windshield gets bigger and bigger. Eventually it's time for a new windshield altogether. Save yourself the cost of a new windshield (think: hundreds of dollars) and book a simple windshield repair today! Choose a provider from our marketplace and experience pain-free auto repair service that just makes sense. Note: Windshield repairs are often completed in 15 minutes or less.
Here's what one of our customers is saying about their experience:
"Beep made booking my winter tire service so simple because they have providers available on weekends, not to mention the ability to have the work done at your home, or office. And, the prices were all cheaper than what my dealership quoted!" – R.H.
To see nearest locations offering Windshield Repair services