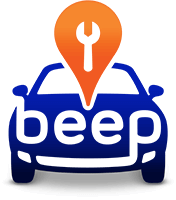 Looking for a window tinting service that isn't just convenient and affordable? Today's savvy consumers also want professional, reliable, and precision work that will stand the test of time. Far too often, auto glass tinting fades to purple or begins to bubble and peel away from the window. An inferior tint film, sub-quality adhesive, or poor and rushed workmanship will be the unfortunate cause of this. Don't let this be your experience.
Auto glass tinting is more than just privacy
Automotive tint film provides UV protection (for skin as well as the interior upholstery of your vehicle), heat reduction- and, of course, the aesthetics of tinted windows.  
Let one of our providers give you timely and professional tinting service. Recent advances in the tint film industry mean that peeling and fading don't have to happen. The services provided by a Beep vendor will deliver performance and professionalism.
Not all car window tint films are created equal, however. Dyed films- an entry level film- provide some UV protection and reduced glare, but their cheaper cost also means a shorter performance life. Metalized films are great at blocking heat, but can be signal-interfering (GPS, cell phones, radio). Ceramic tint films offer substantial infrared heat absorption, the highest performance and durability, and cost more because of it.
There are hundreds of tint film manufacturers.
Don't hesitate to ask our providers to tell you about the different type of tinting films they offer. For example, the percentage of tint doesn't necessarily match its UV-blocking ability; clear window tint is available, which can still provide UV protection and can even block some heat! Find out whether or not there is a warranty that comes with the service. Know the purpose(s) that you are wanting your auto windows tinted for, and the choice will be even easier.  
Of course, DIY glass tinting kits are available, but as with any automotive service, those who do it professionally will ultimately save you time and money. With proper tools and valuable expertise, they can easily remove any old tinting, and efficiently and accurately apply the new.
Function and Quality
In selecting glass tinting that is right for your vehicle, compare function and quality, not just pricing. Even if a cheaper film comes with a lifetime warranty, its failure might mean repeated trips to get your glass re-tinted multiple times- costing you time and convenience. A quality film will be UV treated and optical grade, and should grant you many seasons of performance.
Beep offers auto glass tinting providers who will leave you a happy customer. Contact and book today; it's easy and convenient with our app. We look forward to serving you!
To see nearest locations offering Window Tinting services