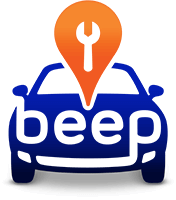 No space to store those heavy, dirty winter tires? Search our list of affordable, convenient tire storage providers now with Beep's easy-to-use app!
Seasonal tires can be dirty, heavy and take up lots of space! Using a Tire Storage service can be an excellent option and an effective use of money for anyone low on storage. You are familiar with the process— clean tire, dry tire, store tire. The work that goes into removing dust, grime and stones from the tread of your seasonal tires, deserves the effort that it takes to properly store them.
About Tire Storage
All seasons, winter tires, performance tires, etc. require storage that is climate-controlled and dry to extend their life. Your seasonal tires have to be stored under conditions such as these when not in use – especially when you live in a place where you have to winterize your vehicle for part of the year,.
Our Beep app can help you shop from a list of providers, costs and locations (all in one search!) for a trusted and secure place for you to store tire and rim, all year long. Using one of our Tire Storage providers means that you'll get optimal vehicle performance and safety, as the conditions and life of your summer and winter tires are protected and preserved. Services provided often include the removal of current seasonal tires, plus exchange and install of tires stored in the tire shop. (The process is even more cost-effective if the tires serviced are on dedicated rims- but it's not necessary).
Swapping Tires?
Our warranty-approved providers easily mee the challenge of swapping seasonal tires. They'll help you winterize your car and will take away the unused tires until you need them again. A quick appointment at the tire shop in the spring and- voila!- you're ready for those summer roads. You can rest easy during warmer conditions knowing that your winter tires are clean, dry and stored properly.
Skip the heavy lifting and handling. Add Tire Storage to your Tire Service booking today. Shop for a provider nearest you, and easily compare prices for tire storage services. You can know that your seasonal tires will be in good care. Your tires will be safely stored in a tire shop that is both insured and secure. Let the trusted providers on Beep take your tire storage headaches away today!
To see nearest locations offering Tire Storage services