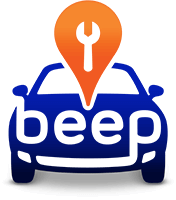 On-location service: convenient
Can't get away? Let a mobile Beep on-location service provider come to you.
Sometimes, there just isn't time to make it into the shop for the repairs needed by your car. There may be no more appointment slots for you to get that pre-purchase inspection done. No worries! Our professionals will come your way and on your schedule.
Most repairs and services can easily and effectively be completed by a mobile mechanic. Like all Beep-approved service providers, our on-location service mechanics and technicians are warranty-approved, and use their own professional tools and quality replacement parts. Regular maintenance, oil changes, electrical work, suspension diagnosis and repair- and way, way more- are easily accomplished by an on-location service provider.
Simple Auto Repair booking
Use the Beep app today to find available, affordable help. If you happen to know what is going wrong, let the provider know. If not, no worries- they'll do a general inspection, diagnosis and then let you know what needs to be done.
Get professional auto service where you need it with Beep. To see the nearest locations offering On-Location Service, use our simple app today!
To see nearest locations offering On Location Service services