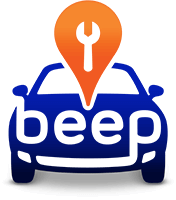 Car won't start? Find out why. Using Beep, you choose from auto service shops that are close, convenient and cost-effective. A no start diagnostic appointment is at your fingertips.
It's a frustrating problem when your car won't start, but it's wise to leave the troubleshooting to a professional.  There can be dozens of compounding reasons why your vehicle engine started poorly or not at all.
Why A No Start Diagnostic?
In that very brief moment of ignition, a car's engine is fulfilling a complicated mix of sparking and fueling, cranking, compressing and timing. When your engine fails to start, you'll likely appreciate the skilled services of someone who can correctly identify if it's the fuel pump or the battery, the solenoid or the spark plugs… or one of many other things that can go wrong in our vehicles today. When it works, fuel, spark and timing create an ignition that lets you move on with your day. When it doesn't, you need reliable help. That's where the Beep auto service marketplace app comes in.
Check Engine Soon
Pay attention. That pesky little "Check Engine Soon" warning light was triggered because sensors in the car's engine sent data to the car's computer, registering some kind of anomaly, or fault. Sometimes you'll experience performance issues when this light is on, but other times you won't.
Know your car; it's a huge help to the technician who will do the diagnostic. Pay attention to sounds, or the lack of them. Ignition should spark fuel combustion- there is a collection of sounds that you should be able to hear in that moment. The key goes in and cranks start- but then, nothing. Or perhaps the engine turns over, and your foot gives it gas to start fuel injection, but again- nothing.
Your technician can quickly attach a diagnostic scan tool to read and interpret the trouble codes that are stored in your car's computer. Finding the right way to describe the concerns of your vehicle can be helpful in getting efficient and effective repair service, the first time. If you're able, words like "misfire" or "bottoming" or "shimmy" or "surge" are just a few pieces of vocabulary that, when spoken to your mechanic, will expedite your car's diagnosis and repair.
Starting Again
At Beep, we endeavour to help you locate a convenient and affordable solution to your problem. With the help of our Beep app, you will receive a list of warranty-approved options for your no start diagnostic. You can survey the possibilities, then choose the location, time and price that work best for you. You'll even find mobile auto service providers that will come to where you are, and help you get back on the road! We offer the best price on the service you need, near you.
Many DIYers are tempted to purchase their own diagnostic tools and independently interpret the fault codes generated by their vehicle's onboard computer. This equipment is easy enough to acquire and if you're mechanically inclined to be your own tester and diagnoser, you can choose to replace your own spark plugs, pump or whatever.
But for the rest of us, we need a trustworthy mechanic to quickly and efficiently identify the problem, order the right part and effectively replace it.
Many providers are happy to host you in their client lounge, and put a hot cup of coffee into your hands while you wait for the diagnostic to be completed. Often, the tester him or herself, or sometimes the service desk manager, will take time to explain the fault codes to you, along with a suggested course of repair. Someone can explain to you what your car knows to be going on, and why the engine started so poorly or failed entirely to do so.
It helps to ask the right questions up front, so that there are no surprises. Know how and for what you'll be billed. That's just being savvy. All of Beep's providers will provide competent and trustworthy diagnostics with excellent customer care. It's what we do- help you to find the best fit for you, your wallet and your schedule.
Book a no start diagnostic with Beep today and solve it with the right part and the right fix, the first time.
To see nearest locations offering No Start Diagnostic services