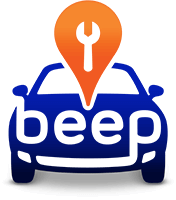 Our app scans your VIN, then instantly provides you with choices of who and where and at what cost you can get new wiper blades.
Your wipers are leaving streaks. Or worse, rain falls and all your windshield blade can do is to turn the water into one blurry, dangerous field of vision. We've all been there. Sadly, too many drivers tolerate these kinds of dangerous driving conditions for too long.
Replacing with new wiper blades is a very easy thing to do – you just need to get the right ones. Don't pay dealership costs or fuss over which blades to use. Let Beep give you the choice of where find you the correct replacement blades at the best price, near you! 
What was clear and brilliant, is now getting scratched and has lost a safe level of visibility, especially when that setting sun hits it. But you can do something about it. Let Beep help replace those wiper blades ASAP.  
New Wiper Blade Details
Of all of the component wiper parts, blades are the least durable and need the most frequent care and attention. They should be replaced every 6 to 12 months – especially if they just aren't doing their job effectively anymore.The rubber in your windshield blade breaks down from use (or lack of it), from heat, cold, sun damage and grit like sand or rocks. It becomes hard and cracked, no longer sealing to the glass of the windshield.
Sometimes, our blades, wipers or windshield fluid fail to keep the glass free of debris. When this debris becomes trapped under the blade, windshield glass can be scraped by the repetitive swipe of the wiper. Car care is often as easy as replacing those damaged wiper parts. It literally takes moments.
Like so many aspects of car maintenance, doing the work and paying the small cost of replacing wiper blades could save you the much bigger cost of time and money in replacing your entire windshield.
VIN Verified Certainty
With our Beep app, you'll can scan your Vehicle Identification Number. Within moments, you'll have a list of providers near you who carry the size of wiper replacement blades that you need. No measuring, no guessing. You can choose from rubber or silicone wiper blades. It takes seconds to place your order. It's that easy.
We know your time is valuable. At Beep, we believe that you should be able to trust whomever you hire to help you make your vehicle last as long as it can. That's why all of our service providers are warranty-approved. And they offer customer care that we are willing to put our name on.
Let Beep help you locate the best price on new wiper blades near you!
To see nearest locations offering New Wiper Blades services