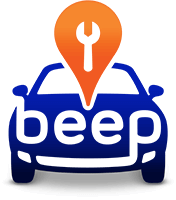 Your headlights can look new again! Choose which warranty-approved shop you'd like to bring your yellowed, hazy headlights to. Easy. Affordable. Convenient.
Is nighttime driving becoming dangerous? Do you have a car headlight issue? Your headlights just don't seem to light up the road like they used to?
Beep's manufacturer-approved, headlight restoration providers can help you change that.
What You Need To Know About Headlight Restoration
Today's modern cars have plastic lenses that are prone to discolouration and haziness- sometimes to the point of a headlight lens being nearly opaque. Over time and weathering, the polycarbonate plastic of headlights become oxidized, reducing the effectiveness of your headlight bulb and lens.
Headlight lens clarity and colour is often largely the result of the life and care of a vehicle. Where does the vehicle get parked? Is it garaged or left on the street? Is it shaded or in the sun all day? What kind of weathering does it experience on an annual basis? Without proper maintenance, the sun's UV rays and contaminants such as acid rain, salt and road debris can degrade and discolour any clear, plastic lens.
In headlight restoration, the outer, oxidized plastic of the lens, hazy and discoloured, is removed by applying increasingly finer and finer abrasives followed by polishing tools and products. Beep's service providers can quickly evaluate and address the root of the headlight problem, whether it be plastic clarity, discolouration or just a dim bulb. They will leave you happy with convenient service and effective, safe and brilliantly restored headlights.
There are lots of DIY products and kits available to you, each with its own cost-effectiveness and usability rating. But why bother? Let a professional save you time and expensive mistakes.
Getting It Done Right
A booking with Beep means that you'll quickly and easily find a shop with the proper equipment and supplies, not to mention outstanding customer care, plus convenient hours and location. Combine that with hard-earned expertise and you'll be saving yourself from a time-consuming and possibly damaging DIY project and the headaches that come with it. Accidental errors, like damage to the headlight's plastic or the vehicle's surrounding paint, can quickly become an even bigger cost.
Restored headlights mean restored safety. It means nighttime driving will no longer be difficult or dangerous. To restore your headlight lens is to replenish the aesthetic of clean, clear plastic, taking years off the age that your vehicle looks, and adding years of life to your headlights.
Restore yellowed, dirty headlights to like-new condition. You'll be so glad you did! Book a headlight restoration today- we'll help you find a reliable and affordable, warranty-approved shop near you!
To see nearest locations offering Headlight Restoration services