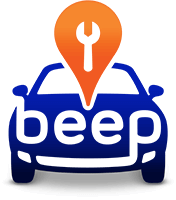 Modern cars have a variety of impressive, automatic safety features. But what if the problem is as simple as the glass in front of your face? if you simply can't see well through your windshield? Bring your driving visibility to the next level and book a glass treatment service for your vehicle.
Beep's service providers offer affordable rain repellent treatment so that you can dramatically improve your driving visibility in wet conditions. It's quick and very affordable. You'll wonder how you ever drove without it!
Aquapel glass treatment
When you're on the road, there's no substitute for perfect visibility. One Aquapel treatment will have you convinced. It's patented formula was originally developed for aircraft windshields. If it's good enough for Boeing, it's good enough for us!
Aquapel works by creating a hydrophobic surface on the windshield ensuring that rain, sleet and snow quickly bead off the glass. It forms an actual chemical bond to the glass, which makes it a highly durable windshield treatment. Glass quickly becomes clear in the wind and rain and the water easily beads off and out of your line of sight, making a safe drive for you and your family.
Setting the standard for windshield hydro repellents, Aquapel treatment immediately improves visual clarity, applied in less than 15 minutes. It is not just a wax product, which means that it will endure through the snow and rain. Glass will have improved visibility in all kinds of less-than-desirable conditions!
It's not just a rain repellent. This amazing glass treatment will also reduce glare during night driving. The designers thought of everything in creating this technology against snow, sleet and rain. Dirt and bugs are also no match for Aquapel. Glass stays clear longer, and makes your drive safer and more enjoyable.
Let us help you quickly choose a provider for your vehicle's Aquapel treatment. You'll be booked and all paid up in no time! You can rest at ease knowing that our warranty-approved auto service providers will provide excellent customer care, giving you reliable, quick service so that you can get your vehicle back onto those roads- even the rainy ones.
To see nearest locations offering Glass Treatment services