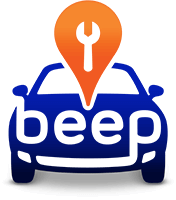 Treat yourself to that brand new car feeling with a carwash at your convenience. On the road, your car naturally accumulates dust, debris, and gump on its surface. It is recommended that you get a car wash every other week to upkeep your car's clear coat. While you may know when it is time for a car wash, it may be a hassle to seek one out. That's where Beep comes in!
Beep. Beep.
Depending on your desired location, time and wash, Beep offers a wide selection of car wash services wherever you are. Whether you are on a time crunch, or seeking hands-on experience, Beep offers a wide selection of professional car washing services at your convenience.
Difference between Car Wash & Car Detailing
Car Wash and Car detailing are often used interchangeably, however the two are very different in service. Car washes are more like hygiene upkeep for your vehicle, whereas  auto detailing involves meticulous level of cleaning inside and out, its hands on every time.
In most cases car wash involves a tunnel set up whereby the vehicle is pulled along a track to go through cleaning process: water soaking, brushing, soap application, and complete rinse with additional surface coating or blow dry finish. It can also involve additional wheel cleaning, clear coat protection and undercarriage wash as per request. Car Washes are relatively quicker than auto detailing, but it can take longer if it involves a professional hand wash.
On the other hand, auto detailing takes longer period of time where auto detailers focus on both cleaning and restoration of car's interior and exterior.
For quick, easy, and refreshing car wash, find the closest location near you with Beep!
To see nearest locations offering Car Wash services