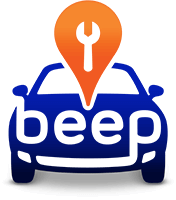 Find quality auto detailing without surfing around for quotes. The Beep app makes locating and booking your car's wash & detail so easy! Make it shine!
There's at least two kinds of people that get their car washed and detailed. There are those who absolutely love their cars – their baby! – and love to see it glisten and shine. For these drivers, restoring their car to its original beauty is a joy, and booking a detailing job is like a birthday present to themselves. For others, auto detailing and service washes are just smart. They know a professional detailer is going to get to those hard-to-reach areas. They also know a well-maintained car holds a higher resale value. Regular washing and detailing makes sense.
No matter what kind of car owner you are, Beep has a variety of auto service providers on its marketplace who will wash, dry and polish your car so it shines like brand new.
What Is Auto Detailing?
When considering whether or not to book a washing or detail job for your vehicle, there are a few important factors to take into consideration. First, auto detailing services includes more than your average car wash and vacuum experience. Professional auto detailing is done by hand and is very hard work. It needs to be done by hand because each car is unique.
Professional detailers systematically clean your car with special cleaning solutions and equipment. The combination of specialty tools with speciality chemicals is both safe for your vehicle's surfaces and ideal for that brand-new shine that you want to achieve:
a polished, feels-like-new interior
a glistening exterior
shiny, black tires
When it comes to cleanliness, there's a peace of mind that comes with knowing your car is cleaner than you see at first glance. A professional detailer has taken care of hard-to-reach areas and cleaned even into the often-unseen crevices of your vehicle. And after all that, your vehicle is showroom-ready for either its highest-possible resale, or for you to enjoy for years to come.
Use Beep to find top-rated automotive detailing and car wash services close to you, at the best price!
To see nearest locations offering Auto Detailing services